IF YOU HAVE ANY QUESTIONS, DO NOT HESITATE TO EMAIL info@jgfracing.com. IF YOU NEED US TO CALL YOU BACK, JUST INCLUDE A PHONE NUMBER IN YOUR EMAIL. PLEASE DO NOT CALL BACKPOCKET BREWING WITH RACE QUESTIONS. THEY'LL BE SWAMPED AS IT IS!
Parking
All participants can park for free (hooray weekend) at the UIHC parking lot at E 9th St and Ring Rd. This is a quick two block jaunt from Backpocket. There will be no parking at Backpocket itself. Please plan accordingly so you have time to park and be ready to get on your shuttle.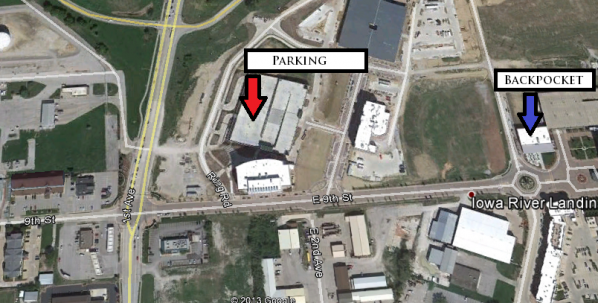 Packet Pickup - ALL AT BACKPOCKET BREWING (903 QUARRY RD)
Packet pickup will be from 4-7pm on Friday 8/23. PACKET PICKUP ON RACE DAY (8/24) IS 11AM-3PM AT BACKPOCKET BREWING.
You will receive your race bag, which can be used at the bag drop, T-shirt, timing chip, and bib number, and Backpocket pint glass! Once we give you the glass, it's all yours. This means no butter finger insurance!
If you have a conflict, you can have a friend or family member pick up your packet for you. To do so, please print off the PROXY FORM for your designated friend or family member, sign it, and send them a photo of your ID. Your designated person will need this form to obtain your race materials. 
At Backpocket on race day, we will have a bag drop where you can leave any essentials that you would like once you finish. Change of clothes/shoes, towel, cell phone, ID, and money for food/beverage, are possible suggestions. Only the clear race bags you receive at packet pickup will be allowed at the bag drop.
Shuttles
There are bus shuttles to help get all of the runners to the start of the run at Waterworks Prairie Park. There is no designated parking at the start. Although you may drive or get dropped off at the start, we cannot save any space.
YOU MUST BE READY TO ROLL AT 4:15PM!!! DON'T BE LATE!!!
At 4:00pm, we will make the annoucement to start forming lines for the shuttles. As soon as a shuttle is filled, it will take off to its start point. We will keep doing this until everyone is at their appropriate start. By doing this, we can ensure that everyone gets to their starts well before the race starts at 5pm with time to warm up, stretch, and get ready to race! The start will have our volunteers who will be there to help. There will also be water and portable restrooms.
Chip Timing

All runners will be provided a timing chip. You will receive your timing chip at packet pickup. Please don't forget it on RACE DAY!!!  You will be timed according to your chip or net time. 
The timing chip is affixed to your bib. Please do not bend or damage it in any way. This may cause a problem recording your result.
Course
Remember to know the course! As a reminder, here is the 5k course.The course will be marked with these arrows. Follow them!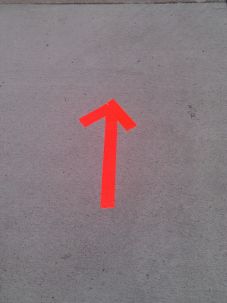 Safety
There are multiple aspects of safety to be aware of for the Dam Backpocket Run. Watch the weather on the day of the race. If it is 85 degrees, do not wear your winter coat to run in. Drink plenty of water. Don't hesitate to stop at aid stations on the course.
The course is on pavement either on road or bike path. Traffic will be controlled where necessary by Iowa City and Coralville Police, but please we aware of what is under your feet, ahead of you and around as you run.
BOOZE. Please be smart about drinking. We want everyone to have fun and we are not here to be anybody's parents. We completely understand that this event is centered around an awesome brewery with awesome beer and we hope everyone enjoys a few. Don't try to sneak alcohol onto the shuttles. We will take it away. There is no alcohol allowed at any of the start locations. We will take it away there as well. We highly recommend not drinking at Backpocket or anywhere else before you run. Save yourself until the finish, then you can indulge.
Water Stations
1. Manitou Trail/Mackinaw
2. Trail - Just before bridge crossing to 1st Ave 

Finish Area and Party
We'll have plenty of water, snacks, and of course the delicious menu from Backpocket Brewing to help you recharge once you finish. 
The Stein Holding Contest will begin right after awards. Any registered runner is eligible to participate!
Did we mention there's beer? Like, a lot of it. Every runner, when finished, earns their first beer courtesy of Backpocket Brewing. You will need your ID so be sure it's either in your race bag or tattooed on your forehead. Afterwards, enjoy the company of 500 of your new friends, have another beer, have some fun!
AS ALWAYS, IF YOU HAVE ANY QUESTIONS, DO NOT HESITATE TO EMAIL info@jgfracing.com. IF YOU NEED US TO CALL YOU BACK, JUST INCLUDE A PHONE NUMBER IN YOUR EMAIL. PLEASE DO NOT CALL BACKPOCKET BREWING WITH RACE QUESTIONS. THEY'LL BE SWAMPED AS IT IS!